AHA, BHA, PHA: Know Korean Skin Care Exfoliating Acids
Posted by AMIR ANSARI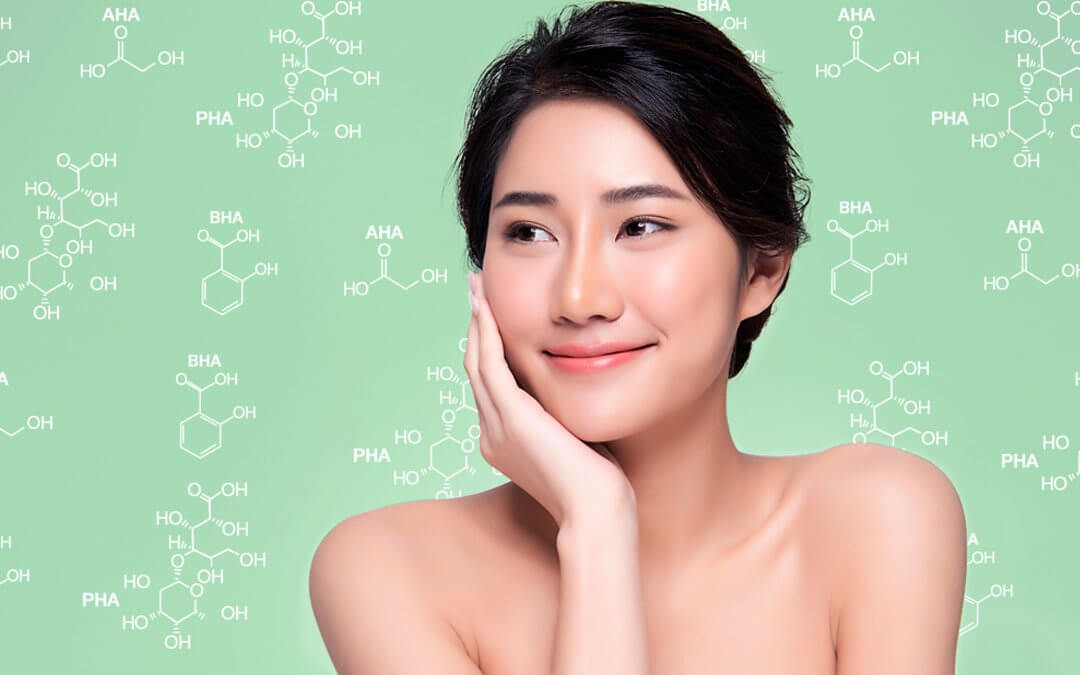 "Even when we don't understand AHA BHA PHA, we still want them in the products we buy"
Welcome to the age of skincare enlightenment. In this blog, we won't just limit ourselves to defining these face acids but we have also shared their benefits, concentration, products, your skincare doubts relating to them, etc. (You see, we share abundantly)
So, welcome!
What is AHA, BHA, PHA?
So as the name suggests, all three of them are face acids that usually fall under the category of chemical exfoliation. Now, exfoliation, as we know, is the process of cleaning the dead cells from our face. There are various mechanisms to do it like scrubbing, natural exfoliation etc. And, one of them is chemical exfoliation.
As conspicuous from the name, it includes the uses of skincare acids which we call AHA BHA & PHA. They are known for their ability to deeply penetrate into the skin to shoo away those dead cells. Their source can be both man-made and natural.
Since the first step is over now, let's take "one chemical at a time"
What is AHA (Alpha Hydroxy Acids)?
AHA are a set of chemical exfoliators that are specifically recommended for oily skin. Being water-soluble, they majorly work on the topmost layer of the skin. AHA targets the dead skin by mellowing it down and gradually dissolving it. In this process, it helps with reducing blemishes left behind by the acne marks.
The other thing about AHA is that its degree of exfoliation varies upon which form you choose. For instance, one of its forms is glycolic acid. It is the most powerful owing to its molecule structure. So depending upon your skin need, you can choose the right one for you.
AHA is also commonly recommended for adults or mature skin types as it acts as a vital catalyst in speeding up the natural skin rejuvenation process. Thus, it helps in keeping the skin youthful for long.
Concentration in Products – 4% – 15%
What does AHA do for your skin?
Smoothens the uneven skin texture
Hydrates from within
Works as a skin moisturizer
Open the clogged pores
Fights acne
What are the types of AHA?
Glycolic Acid
Gets into your skin, literally!
Glycolic acid is one of the most common types of AHA used in beauty products. It is known for its property to deeply penetrate into your skin to work on the targeted area. Once it reaches there, it helps to loosen the dead cells which in turn help in reducing acne. Other significant studies have testified its role in collagen production
Lactic Acid
Lactic Acid is fundamentally derived from milk and is a little milder compared to Glycolic Acid. It is one of the major agents among AHA that helps in getting you that wrinkle-free skin.
Its other functionality includes protecting your skin from pigmentation. Furthermore, it helps towards reducing the dark patches / dark spots on your skin.
Malic Acid
Malic acid here plays the role of soothing the skin texture. It does that by actively eradicating the existing dead skin cells and also stopping the formation of new ones.
The acid also works great as a moisturizer or a hydrating agent for the skin. You will be surprised to know that your body produces malic acid too during the process of transition carbohydrates to energy.
What is BHA (Beta Hydroxy Acid)?
In terms of functionality, BHA is a lot similar to AHA. However, it is oil soluble and hence, penetrates more deeply in the skin. Naturally, the deeper a substance goes, the cleaner the surface of your skin becomes.
It is highly recommended for the ones who are dealing with acne-related problems or oily skin in general. Further, its anti-inflammatory characteristic makes it a great tranquillizer for the red or irritated skin.
Concentration in Products – 0.5 to 9%
What does BHA do for your skin?
Mellows down the Skin
Fights Acne
Dissolves Sebums
Anti Inflammatory
Deep cleansing
What are the types of BHA?
Salicylic Acid
Salicylic acid is the most common type of BHA acid. It is derived from willow bark that works super efficiently in fighting acne. Apart from them, it also helps to get rid of dark heads and whiteheads.
"Keratolytic medication" is the name that has been given to Salicylic acid, simply because of the "extreme exfoliation, it delivers. Other than this, there are beta-hydroxybutyric acid, tropic acid, and trethocanic acid, etc. that are other less commonly used form of BHAs.
What is PHA (Polyhydroxy Acid)?
PHA is relatively a newer acid in the beauty world compared to the aforementioned ones. PHA is a blessing for people with sensitive skin. For instance, if AHA and BHA leave your skin red or cause irritation, then, you can opt for PHA. It is a lot milder with its bigger molecular structure. And thus, penetrates slowly in your skin.
Although the exfoliation would be slow at least it will suit your skin type. Further, it has strong antioxidant properties, making it a must grab for people with mature skin type.
What does PHA do for your skin?
Gentle to the skin
Antioxidant properties
Cell Renewal
Collagen Production
Soothes the texture of the skin
Concentration in Products – Above 3%
What are the types of PHA?
Lactobionic Acid
It is extracted from a plant and because of its mild characteristics; it can be used for all skin types.
On one hand, it reduces the present dead cells, while on the other, it is known for its efficiency in "cellular turnover" i.e. ascertaining that dead cells don't generate in the future.
Lastly, it helps in retaining the moisture of the skin. Galactose and Gluconic Acid are other common types of PHAs.
What is the difference between AHA, BHA, & PHA?
Though Aha, Bha, & Pha majorly deal with common skin concerns, there are subtle differences to them.
| | | | |
| --- | --- | --- | --- |
| Characteristics | AHA | BHA | PHA |
| Solubility | Water Soluble | Oil Soluble | Water Insoluble |
| Skin Type | Mature, Oily Skin | Mature, Oily Skin | All skin types |
| Area of Focus | Anti Ageing | Acne | Cellular Turnover |
AHA BHA PHA Products
We have customized a shortlist of Korean skincare products rich in AHA BHA PHA for you.
Some by Mi Aha-Bha-Pha 30 Days Miracle Acne Clear Foam
Ingredients
The Some by Mi Aha-Bha-Pha 30 Days Miracle Acne Clear Foam consists of Black Bee Propolis, AHA, BHA, and PHA that nourishes your skin from within and leaves behind a healthy glow.
Super Aqua Smooth Skin Peeling Pad – Missha
Ingredient
The Super Aqua Smooth Skin Peeling Pad by Missha is something that would give you tropical feels while treating your skin with AHA, BHA, and PHA. Acids that don't feel like acids at all!
Some by Mi Aha Bha Pha 30 Days Miracle Toner
Ingredients
Ah, finally the mast talked about the gem in the Korean skincare industry – Some by Mi AHA, BHA, PHA 30 Days Miracle Toner. It comes filled with the goodness of Tea Tree Extract that treats acne scars and bans further breakouts.
AHA, BHA, PHA FAQs
Is AHA BHA PHA good for skin?
It's rather obvious, but since it was a query so we thought it was important to include. Yes, they are skincare acids that target multiple skin problems.
In the end, skincare is all about exploring the products and then choosing what fit you right.
Can I use AHA BHA hyaluronic acid?
Hyaluronic acid helps fight anti-ageing and is gaining popularity these days. It is also recommended for people with dry skin as we have seen it being incredibly useful to retain moisture.
Can I use AHA BHA every day?
All skin types are different! Also, AHA BHA PHA is found among different categories of products in different concentrations. So, you need to first figure out what is the general usage of that category first.
What's better AHA or BHA?
If you will look at our table of the difference among aha BHA and PHA, that we have created for all the three acids, you will see the variations between the two.
So depending upon the problem you are targeting and your skin type. You can choose the right one for you.
We hope the next time you hear the phrase skincare acids, you will find yourself at a little ease. You see there are good acids out there too.
Educating yourself about the ingredients helps in choosing the right product and thus we thought at about this time writing about AHA BHA & PHA became all the more indispensable.
If there is any topic suggestion you'd like to give for our next blog, we will be happy to write about it. Let us know 😀