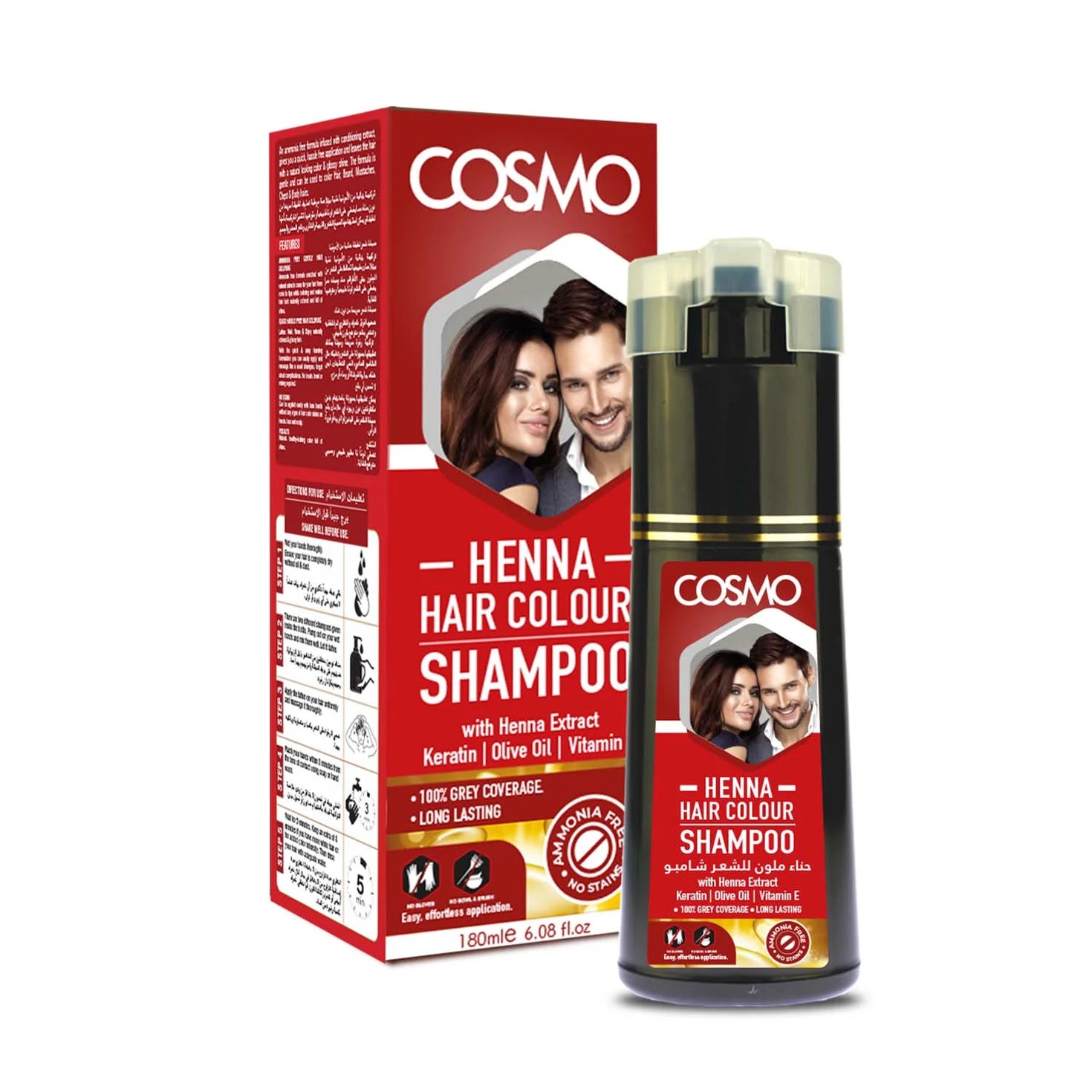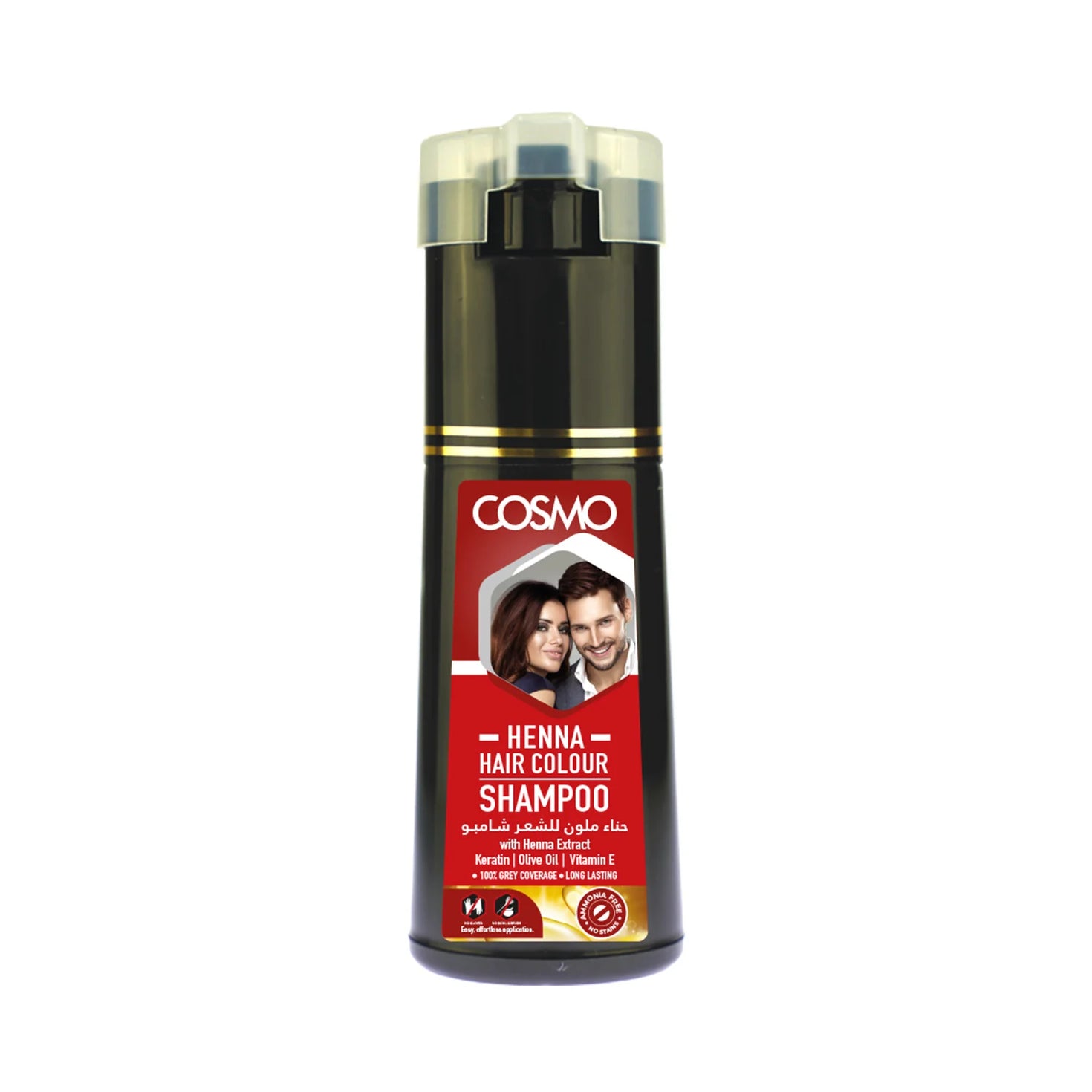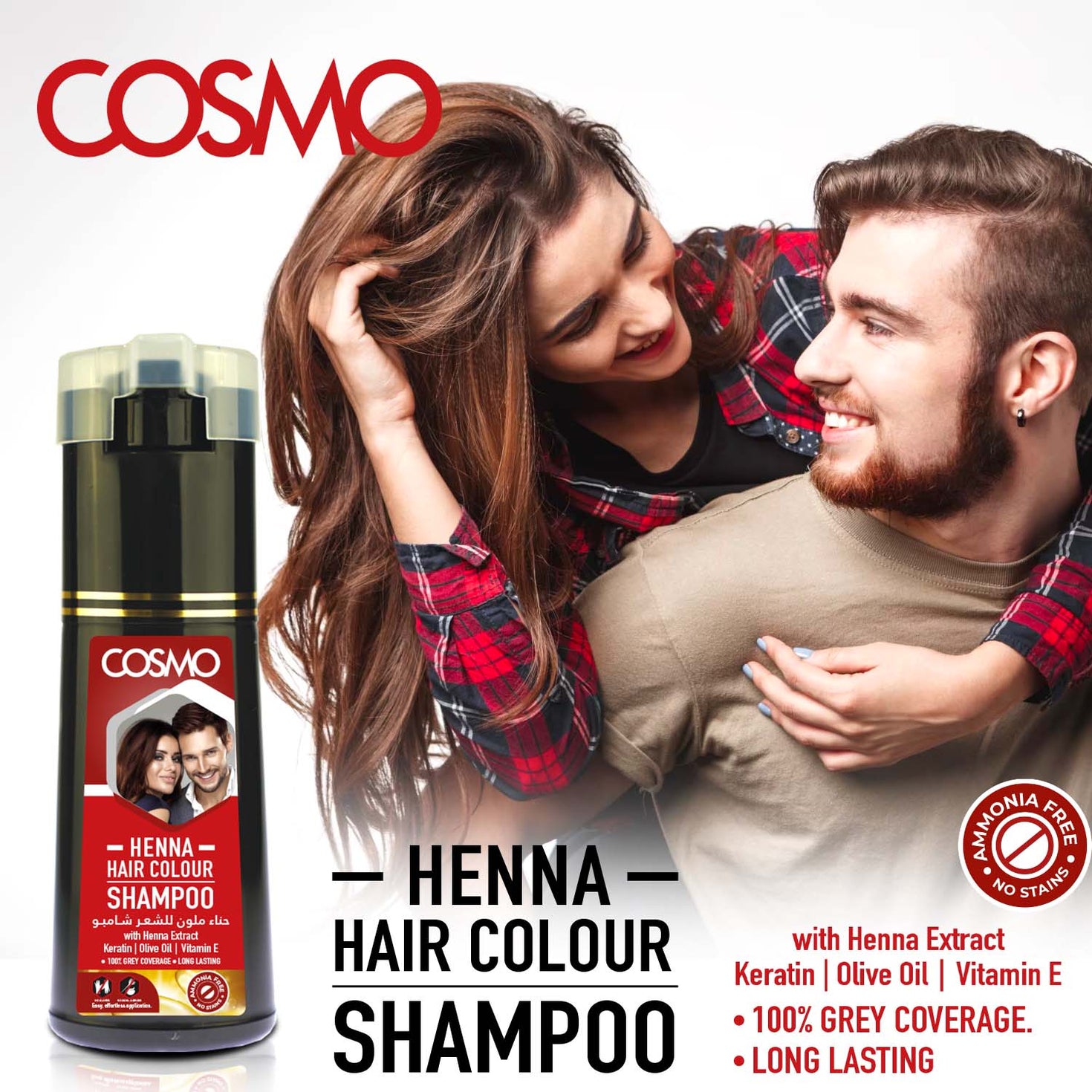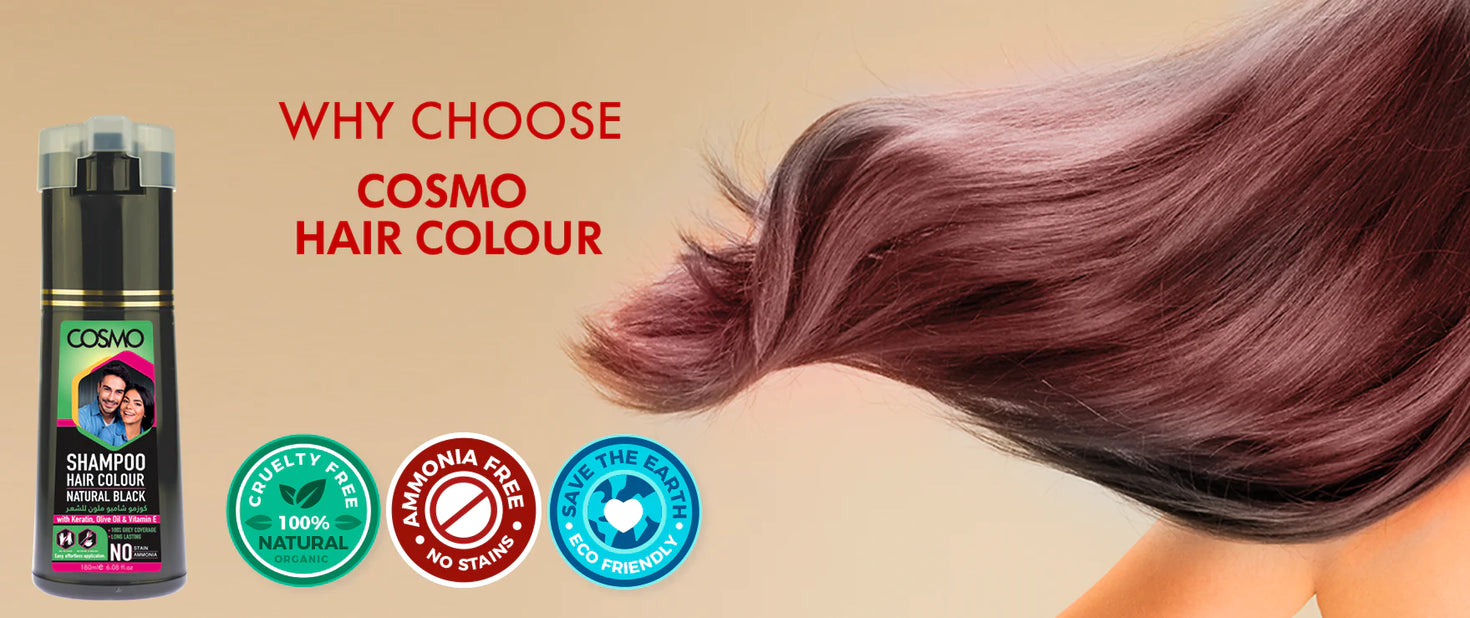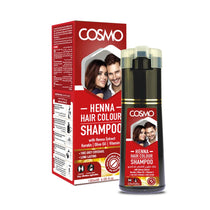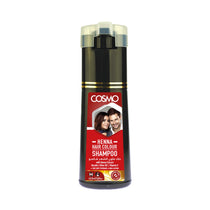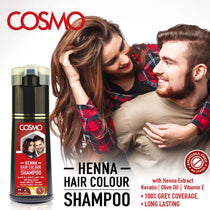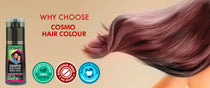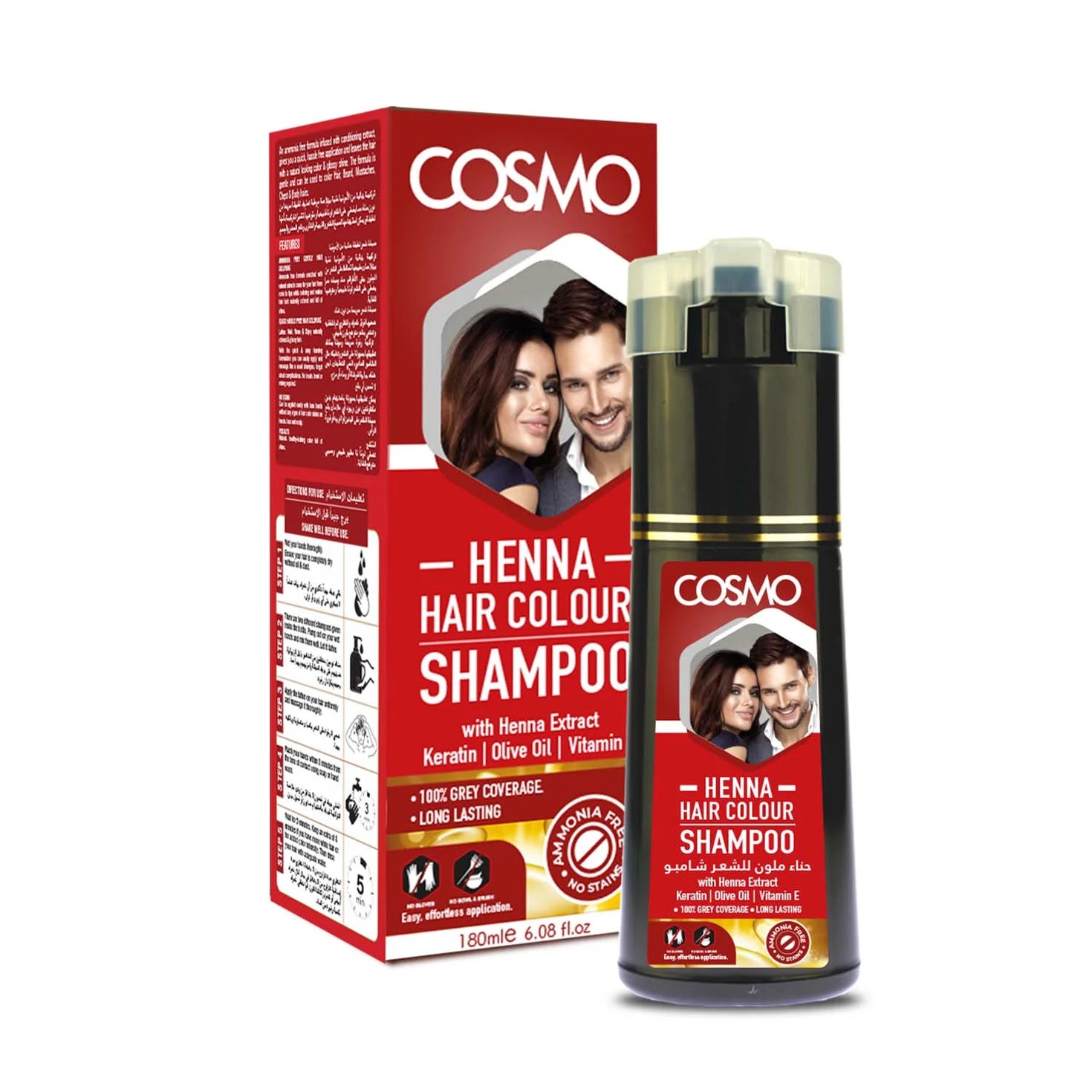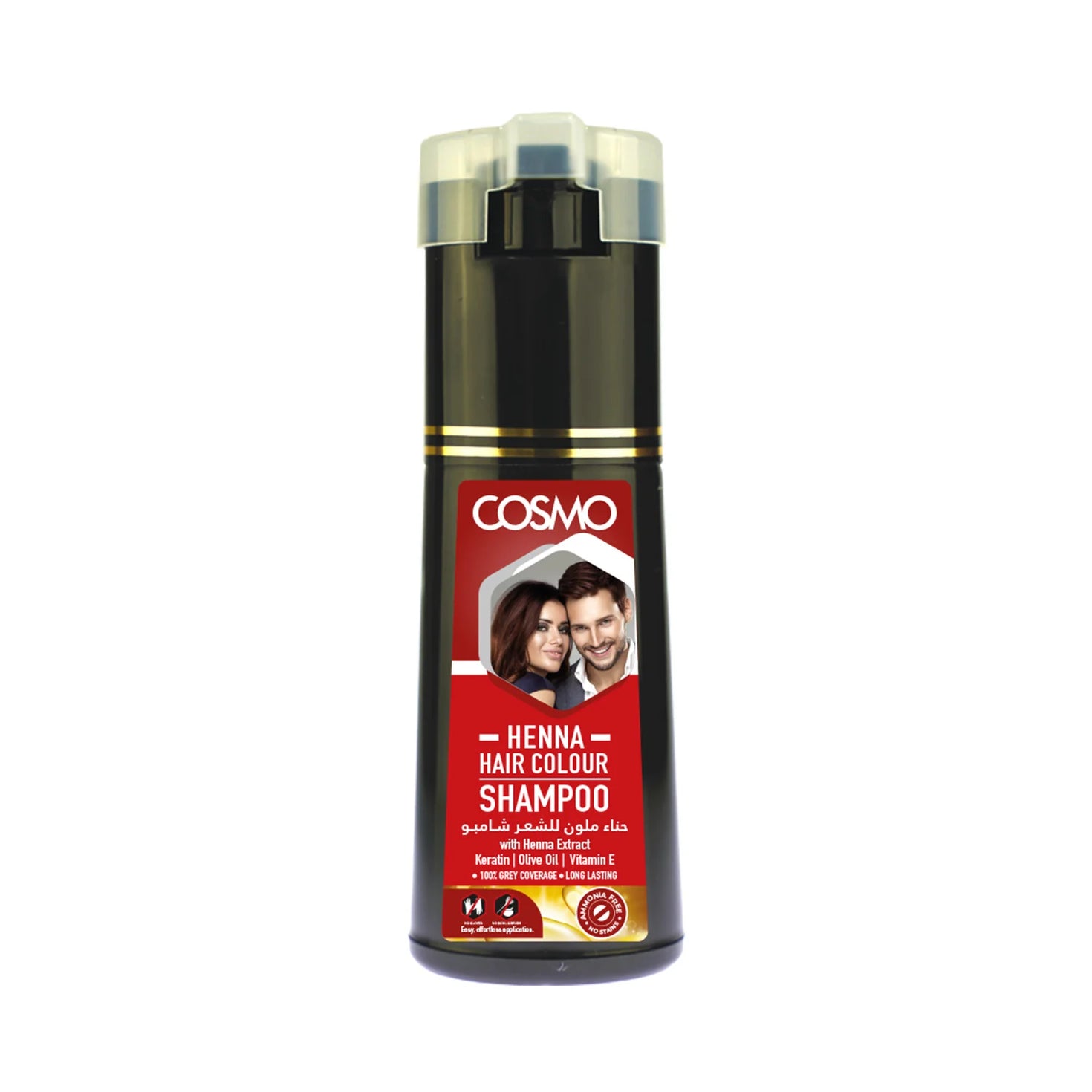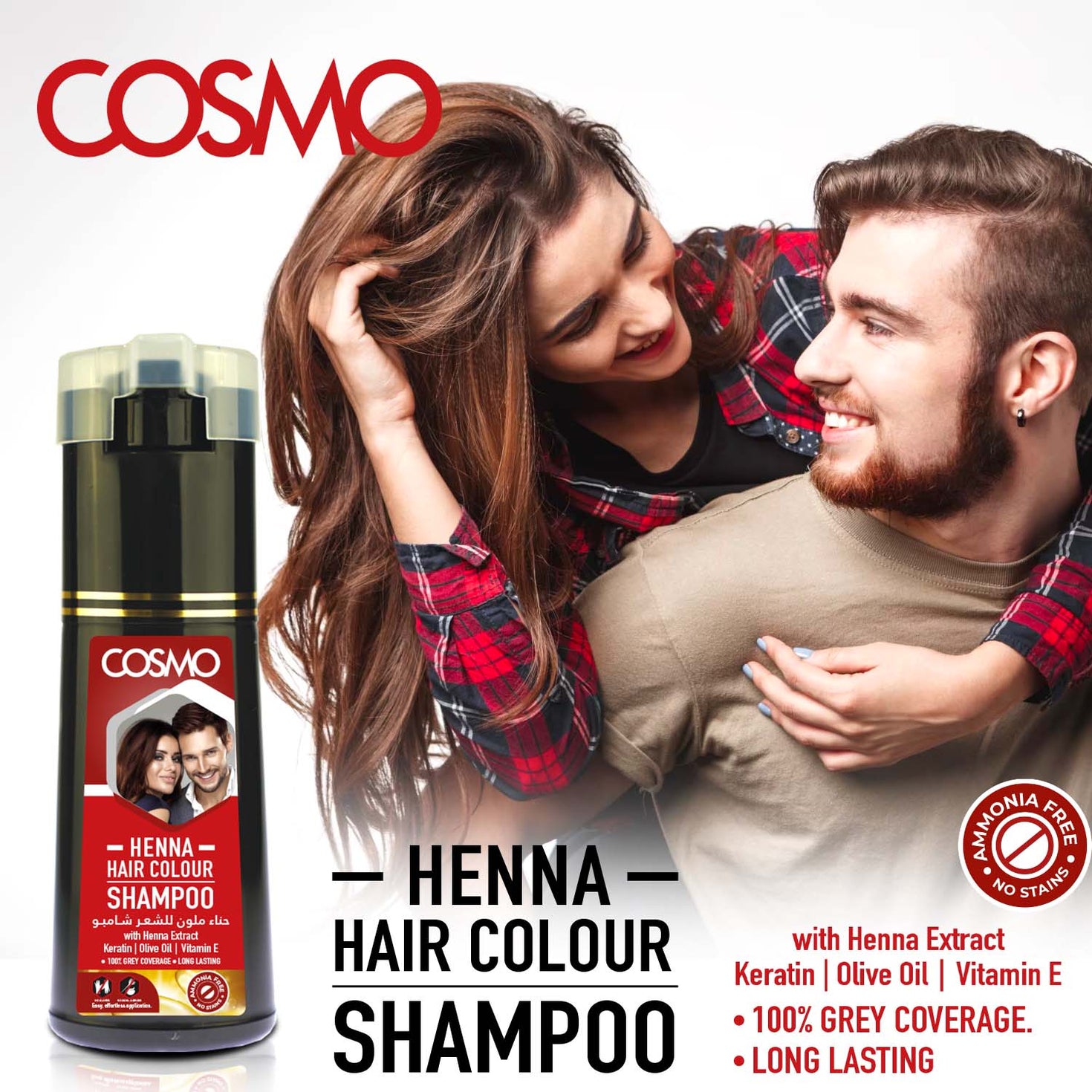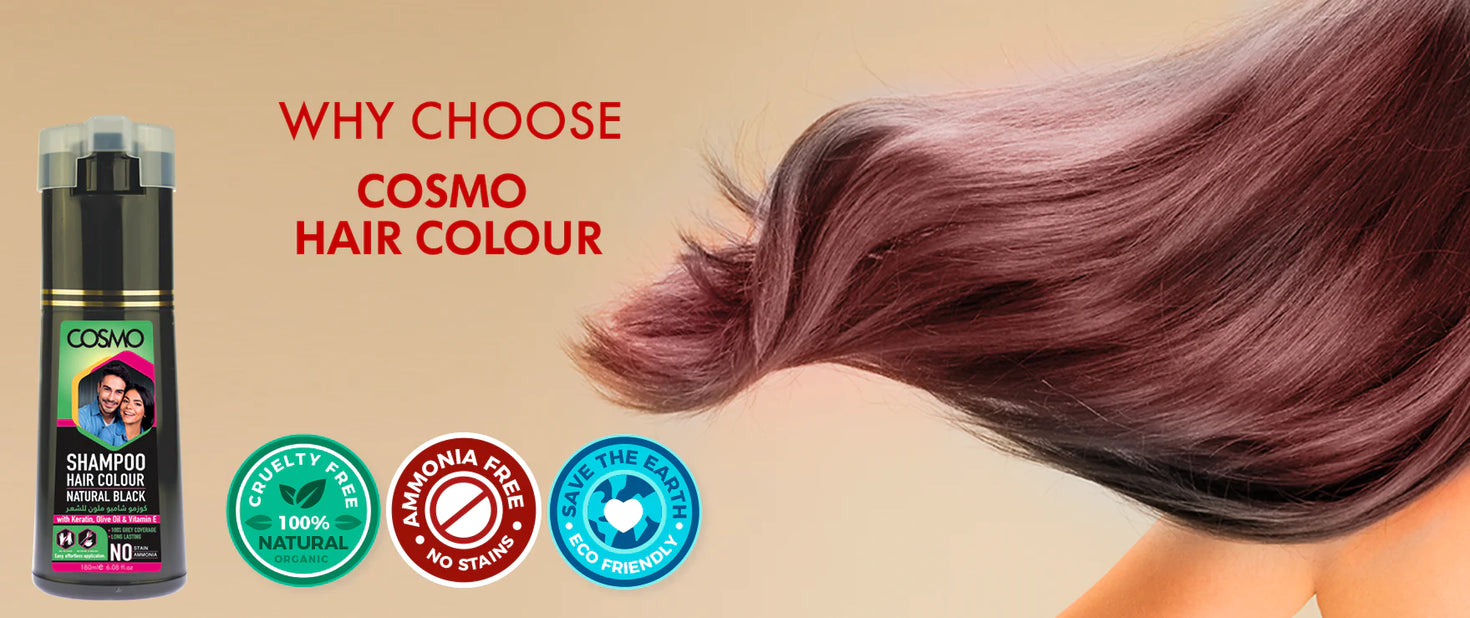 PRODUCT INFORMATION
Cosmo Henna Hair Color Shampoo is enriched with Vitamin E, Olive Oil & Keratin – your go-to solution for a stunning hair colour that strengthens, nourishes, and protects your hair.

This premium hair care product is enriched with ingredients like vitamin E, olive oil, and keratin that work in harmony to keep your hair strong, healthy, and shiny. The keratin works to boost hair growth and repair damaged hair, while the Vitamin E and Olive oil blend helps guard against hair breakage and protects against UV rays and environmental pollution.
The shampoo provides an effective and gentle cleansing action that removes dirt and excess oils from your hair and scalp, giving you a fresh and revitalized look. The shampoo has a refreshing fragrance that leaves your hair smelling fresh and pleasant all day long.

This hair colour shampoo is specially formulated to maintain its rich and vibrant shade while nourishing it to prevent fading or damage caused by harsh chemicals or environmental stressors. Its nourishing formula helps restore your hair's natural strength, vitality, and overall health, making it perfect for anyone looking for a hair care product that promotes healthy and shiny hair.

It is suitable for all hair types, including color-treated hair. Its unique formula helps maintain and restore your hair's natural texture, leaving it with a glossy and beautiful finish.

KEY BENEFITS
NO Ammonia




100% Grey Coverage




Easy, effective & quick hair

colouring

 




Does not stain skin
KEY INGREDIENTS
Hair Conditioning Oils -Olive oil & Coconut Oil: Helps to protect against damage, imparts a sleek look and shine, moisturizes and gives damaged and broken hair a healthy appearance. Keratin: helps rebuild the hair's natural protective layer, making it stronger and more elastic while reducing hair breakage and splitting. It also increases the hair's ability to retain moisture and reduces frizz and flyaways caused by dryness. ; Vitamin E: has emollient properties that helps seal moisture in the hair shaft, keeping it conditioned. The antioxidant properties of vitamin E helps to reduce damage caused by chemical & heat styling, reduces frizz, dryness, and dullness. It also strengthens and protect the hair, making it healthier, strong, smooth, and shiny.; Henna Extract: It helps to condition your hair, repair damaged hair making hair stronger and lustrous.
HOW TO USE
1. Wet your hands thoroughly. Ensure your hair is completely dry without oil & dust.
2. There are two different shampoos given inside the bottle. Pump out on your wet hands and mix them well. Let it lather.
3. Apply the lather on your hair uniformly and massage it thoroughly.
4. Wash your hands within 3 minutes from the time of contact using soap or hand wash.
5. Wait for 10-15 minutes. Keep an extra of 3- 5 minutes if you have more white hair or for added color intensity. Then rinse your hair with adequate water.