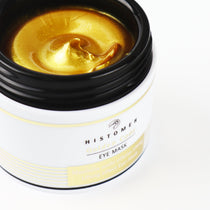 PRODUCT INFORMATION
Lifting eye mask with Peptides and pure Colloidal Gold.
Exclusive formula with a very high concentration of pure colloidal gold complexed with Bio-peptides. A powerful reactivating action on the vital functions of Fibroblasts and on Collagen production. Highly effective against eye wrinkles, sagging eyelids, dark circles and puffiness
How To Use: 
Apply 1-2 times a week on the eye contour (it can be used on all the face too). Leave on for about 15 minutes and remove with a damp sponge. Tone the skin using one of the Histomer Toners. Immediately afterwards apply Histomer Golden Code Eye Cream.